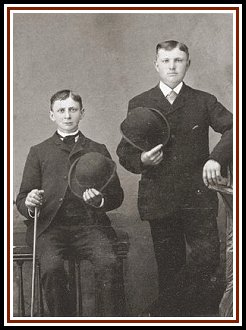 Cabinet photo, c. 1880, Thomas Ryerse, Buffalo, NY. Cabinet photos, mounted on a stiff card
4½ x 6½" were popular from 1875 until 1915.
MUSEUM SCHEDULE


The Museum is open Saturdays from 10 a.m. until 4 p.m. and Sundays from 1 p.m. until 4 p.m., except for major holiday weekends.



We are located at:
614 Greenbrook Road, North Plainfield, NJ 07063.
You can reach us during our hours of operation at: (908) 756-7810


OUR STAFF




The Museum is run by curator George Helmke, and directed by Nicholas Ciampa.


Corresponcence relating to the Museum should be addressed to:

Mr. Nicholas Ciampa
135 Sanford Avenue,
North Plainfield, NJ 07060
Email: nciampa@netscape.net


Requests for group programs should be made to:

Mr. George E. Helmke
5102 Fellowship Road
Basking Ridge, NJ 07920
Email: geohelmke@aol.com